Welcome to Radio 88fm Castlemaine,
Music You Remember.
We're a little different to the radio stations you may be used to. We operate on what is called an LPON licence; Low Power Open Narrowcast. LPON means what it sounds like – Low Powered equals 1 watt. Our coverage is therefore restricted to a smallish area, most of Castlemaine and parts of the edges of town.
Narrowcast means we broadcast to a narrow target audience. In our case it is to older people, those in hostels and hospitals or in home care. Of course the program content spills over into the wider community and appeals to other locals, but those mentioned are our basic audience.
We give advice and information of interest to this section of the community and we play lots and lots of music and nostalgic items that we believe suits our audience.
We invite you to browse this site to find out more about our people, advertising supporters and programs.
You can keep up to date by liking us on Facebook.
Our presenters, advertisers and technical support are all local. Radio 88fm is here for you.
To listen to Radio 88fm Castlemaine anywhere in the world,
simply click on the audio player at top right of the page.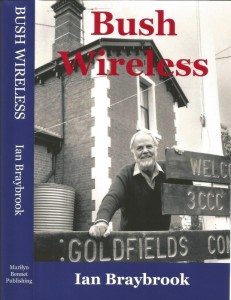 Community radio was new to country Victoria when 3CCC began in Castlemaine. It actually broadcast from Harcourt, 8 km from the town, from a studio built in disused railway building.
Most of the locals had heard vague reports of a couple of community radio stations in Melbourne, but not always good reports. FM radio was unknown, therefore 3CCC had to work hard to gain acceptance. Within a few short years it became one of the most notable and respected community radio stations in Australia.
Among those pioneers broadcasters was Ian Braybrook. Ian began as the nervous reader of local newspaper items for the print handicapped, 'Newspaper of the Air'.
He went on to present countless radio programs and became a popular broadcaster across the region. On a 35 year journey he achieved several levels in management and had a big hand in establishing another three stations. He also met and came to know hundreds of people from all walks of life.
This is his story.
To order your copy of Bush Wireless,
please click HERE.